Your message has been sent
Fields containing an * are required.Please see our
privacy policy
for more details on how we use your personal data
24/7 global
support
Blue Wireless provides 24/7 support from our Global Service Centre. For phone support, reach out via one of the numbers below:

Asia & Middle East
+65 800 101 4625 / +60 3 5870 3122
Australia & New Zealand
+61 2 8046 4644
Basic troubleshooting guide
Important note
Do not attempt to remove/re-insert SIM cards after the installation as it can damage the router SIM slots and void the router hardware warranty
Do not shift or remove the installed router to another physical location as the mobile operators' signal strength can fluctuate and cause an outage on the internet service
Step 01: Physichal Checkup
- Power: Ensure the device is connected and powered on
- Cabling: Ensure any cables that need to be connected to the corresponding customer router are well connected
- Antenna: If paddle antennas are used, ensure these are upright and that it is at an angle like a V shape
- LED light: Ensure there are blue and/or green LED lights on the router
- LED light: Check that there are NO red and/or amber LED lights on the router
Step 02: Network Checkup
- Conduct a Ping Test toward a popular public website (i.e www.google.com) to confirm there is connectivity
- Conduct a 3G/4G LTE signal strength check (RSSI, RSRP, RSRQ, SINR) using 3rd party Network Cell Signal apps using your mobile device next to your router
- If you are provided with NetCloud Manager (NCM) access, log in and check on the router connectivity status. (You can log in to your NCM account at https://www.cradlepointecm.com)
- If you have requested a data usage limiter on your service, check if you have exceeded data allowance on the Ethernet WAN or Modem Data Usage indicator on the Dashboard. Login to NCM is required for this.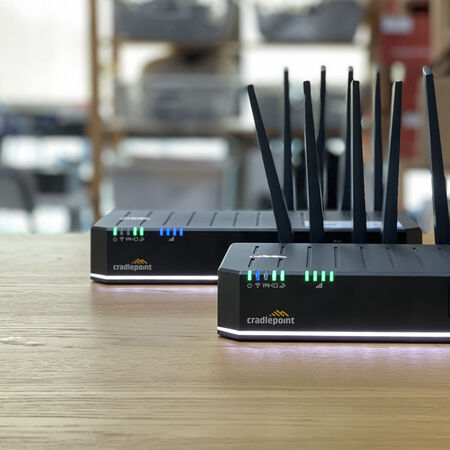 Hardware replacement
All our routers have a warranty for replacement.
If you suspect your router is faulty, please engage our support to troubleshoot first. Once we confirm the device is faulty, we will arrange for a replacement.